By Gracen Brilmyer & Una Lee, CTSP Fellows | Permalink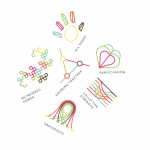 Our movements need more images! Social justice organizers have a wide visual vocabulary of protest — raised fists, barbed wire, marchers holding placards — but should we not also depict the world we are building in addition to the forces we're resisting? How can we communicate concepts we hold dear; concepts like beloved community, allyship, and consent?
The Vision Archive brings together designers, artists, advocates, and community organizers to co-create images for the world we want to build. Visionarchive.io is a Github for visionary social justice images, allowing users to upload images so other users can download and remix them and upload their new creations.