By Richmond Wong, UC Berkeley School of Information | Permalink
Earlier this year, CTSP sponsored a reading group, in conjunction with the School of Information's Classics Reading Group, on Danielle Citron's Hate Crimes in Cyberspace. Citron's book exposes problems caused by and related to cyber harassment. She provides a detailed and emotional description of the harms of cyber harassment followed by a well-structured legal argument that offers several suggestions on how to move forward. It is a timely piece that allows us to reflect on the ways that the Internet can be a force multiplier for both good and bad, and how actions online interact with the law.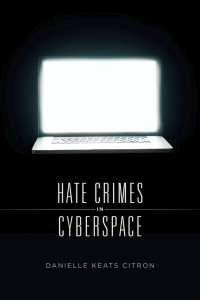 Cyber harassment is disproportionately experienced by women and other often disadvantaged groups (see Pew's research on online harassment). Citron brings the emotional and personal toll of cyber harassment to life through three profiles of harassment victims. These victims experienced harm not only online, but in the physical world as well. Cyber harassment can destroy professional relationships and employment opportunities, particularly when a victim's name becomes linked to harassing speech via search engines. Victims may be fired if their nude photos are publicly published. The spread of victims' personal information such as addresses may lead dangerous and unwanted visitors to their homes.