Reviewing Danielle Citron's Hate Crimes in Cyberspace
By Richmond Wong, UC Berkeley School of Information | Permalink
Earlier this year, CTSP sponsored a reading group, in conjunction with the School of Information's Classics Reading Group, on Danielle Citron's Hate Crimes in Cyberspace. Citron's book exposes problems caused by and related to cyber harassment. She provides a detailed and emotional description of the harms of cyber harassment followed by a well-structured legal argument that offers several suggestions on how to move forward. It is a timely piece that allows us to reflect on the ways that the Internet can be a force multiplier for both good and bad, and how actions online interact with the law.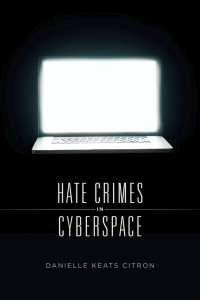 Cyber harassment is disproportionately experienced by women and other often disadvantaged groups (see Pew's research on online harassment). Citron brings the emotional and personal toll of cyber harassment to life through three profiles of harassment victims. These victims experienced harm not only online, but in the physical world as well. Cyber harassment can destroy professional relationships and employment opportunities, particularly when a victim's name becomes linked to harassing speech via search engines. Victims may be fired if their nude photos are publicly published. The spread of victims' personal information such as addresses may lead dangerous and unwanted visitors to their homes.
Compounding these issues, victims of cyber harassment are often not taken seriously. Some people blame the victim, or suggest that the victim should simply stop using social media as a remedy. Other people call the victims "drama queens" and excuse abusive behavior as harmless "frat boy" behavior.  Others believe that the online world should have rules distinct from the physical world. Current laws are often under-enforced due to these social views, inadequate understanding of the law, or inadequate technical skills in law enforcement. Local and state law enforcement often have little experience with investigating cybercrimes, and encourage victims to ignore the abuse or to not use the Internet. Even when states have cyber harassment laws, local officers may not be trained to handle those cases.
In response, Citron recommends legal reforms in three areas. First, for combating cyber harassers, she recommends: that state stalking and harassment laws include abuse indirectly communicated to victims, to include threats made on forums and blogs; that states pass laws banning the posting of revenge porn; and that states allow pseudonymous litigation when the allegations would prevent victims from asserting their rights using their real name. Because some victims are targeted by anonymous groups, using their real names is likely to raise the visibility of the offending posts and risk retaliation by cyber mobs.
Second, Citron calls for reform to platform operators' immunity. Section 230 of the Communication's Decency Act provides website operators immunity from liability for user-generated content, allowing websites like YouTube and Twitter to exist. However, this also protects revenge porn sites and other sites that post personal photos and information that enable stalking. Thus she recommends that Section 230 be amended to not provide immunity for sites that purposefully encourage cyber stalking or host nonconsensual pornography.
Third, Citron addresses the fact that employers often use web searches and social media in hiring decisions. Employers have no obligation to tell job applicants whether or not search results affected a hiring decision. Citron recommends passing a "Fair Reputation Reporting Act," similar to the Fair Credit Reporting Act, to provide due process, forcing employers to reveal what online information they used in making a hiring decision.
Citron has a strong argument and her legal reforms and recommendations should be adopted. However, there are limitations to her recommendations. By focusing on U.S. law, she does not address the problems of offshore operators. Websites and harassers that are based or live outside of the U.S. may not be subject to the same laws, and thus are unaddressed by these recommendations. Furthermore, federal legal reforms that require Congressional action may be difficult given today's political climate. The speed at which these reforms can occur is important given that cyber harassment is an ongoing problem which warrants a speedy response.
Law is not the only type of regulatory force. Regulatory agencies, markets, norms, and technology or code (recall Lessig's Code) can also play a role. While at the end of the book Citron briefly mentions the role of education in creating new social norms around harassment, other options are largely overlooked.
Citron does not discuss the potential role of regulatory agencies to combat cyber harassment. There are actions that the Federal Trade Commission (FTC), can take now. The FTC's power to bring enforcement actions against unfair and deceptive practices can and has been used to target some cyber harassment sites. In 2015, the FTC filed a complaint against Craig Brittain, the operator of a revenge porn site which tried to extort victims for payment in return for taking down nude photos. The FTC should increase enforcement actions under unfair or deceptive practices against sites that engage in cyber harassment. This will increase the potential costs for sites owners that decide to engage in this type of activity and help set new social norms about what is acceptable and not online.
Technical solutions may help abate victims' exposure to cyber harassment. For instance, the Good Game Auto Blocker is a filter developed by Twitter users, many of whom were the targets of GamerGate cyber mob attacks. The Auto Blocker shares a community-decided list of Twitter harassers. Twitter users who use the Auto Blocker are unable to see the harassers' tweets. While this does not stop the harassers from tweeting obscenities, it does help block potential victims from the emotional tolls of being bombarded with messages from cyber mobs. Others propose that platforms can make deliberate decisions in their technical design: for example, a site may want to technically disable posting animated images in comments when people begin using that feature for harassment purposes.  A potential positive of technological solutions is that they can be used to block harmful content that originates from outside the U.S.
In conjunction with Citron's prudent legal recommendations, an additional focus on regulatory actions, technological approaches, and changes to social norms can more comprehensively address the problems of cyber harassment.