The Vision Archive: An online library of aspirational, open source social justice imagery
By Gracen Brilmyer & Una Lee, CTSP Fellows | Permalink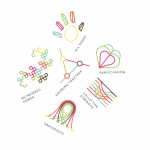 Our movements need more images! Social justice organizers have a wide visual vocabulary of protest — raised fists, barbed wire, marchers holding placards — but should we not also depict the world we are building in addition to the forces we're resisting? How can we communicate concepts we hold dear; concepts like beloved community, allyship, and consent?
The Vision Archive brings together designers, artists, advocates, and community organizers to co-create images for the world we want to build. Visionarchive.io is a Github for visionary social justice images, allowing users to upload images so other users can download and remix them and upload their new creations.

History
The Vision Archive was conceived in 2014 by Una Lee. As a designer working within social movements, she was concerned by some of the trends she was noticing in movement imagery. On the one hand, clipart of raised fists and barbed wire had become visual shorthand for community organizing. On the other hand, some organizations were leaning towards more a more "professional" i.e. bland aesthetic in the hopes of seeming more credible to funders. She worried that these aesthetic directions did not do justice to the visionary work that organizers do.
Knowing that what we see shapes what we believe is possible, Una felt a need to shift the visual culture of social movements. What if social movement imagery were visionary in addition to being critical? And what if it were created by organizers and community members to reflect the world they are working towards?
In May 2014, Una led the first "design justice jam" and through a series of participatory activities facilitated 24 activists and artists in the creation of the first set of visionary icons. This was followed by a workshop a year later, for Mayworks 2015. Later that summer, Una teamed up with designer/scholar Gracen Brilmyer, front end developer Jeff Debutte, and backend developer Alex Leitch to build visionarchive.io to house the icons.
Technical Considerations
The tech stack is a fairly standard MEAN (MongoDB, Express, AngularJS, NodeJS) setup with Foundation, a front-end framework, providing a quick and easy way to handle responsive and styled UI elements.
We opted to use a NoSQL database vs a standard relational one for ease of development, although this may need to be adapted as the project increases in complexity as, while NoSQL scales easily it is less well-suited to complex data sets. As relations between existing graphics and remixes increase, we intend to monitor database performance. For the prototype, however, this seemed like the best solution.
Angular provides an easy way to interface with the backend as well as quickly produce a relatively complex web app with minimal architecture.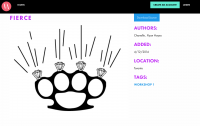 The Workshops
The Vision Archive's IRL ("in real life") design jams are a key part of the project. These 3-hour sessions connect artists with activists, provide concrete design skills, and result in new and remixed content that is then uploaded to the site.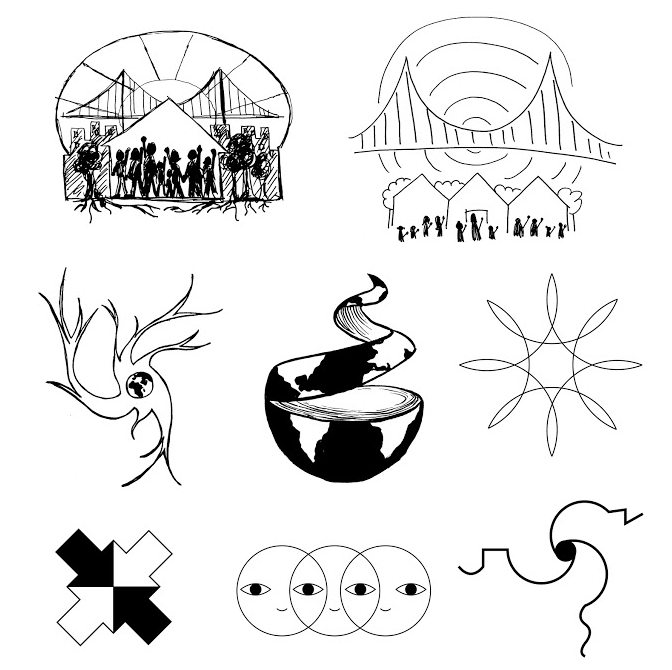 With the support of CTSP, the Vision Archive hosted a workshop at the School of Information at the University of California, Berkeley. Designers, activists, and community organizers brought their diverse backgrounds to initiate new collaborative designs. Through sharing their memories of social justice victories and learning about the design process, the workshop attendees created new content for the Vision Archive. Themes included "community", "openness", and "togetherness".
To conclude the CTSP fellowship, the Vision Archive facilitated a workshop that would provide participants with the icons created in previous workshops, with which they would create new poster designs. The session took place at the Centre for Social Innovation in Regent Park and attracted organizers and artists from that community as well as from all over Toronto. Workshop attendees "remixed" imagery from the Vision Archive to design posters for their own causes. Co-facilitators Una Lee and Gracen Brilmyer walked participants through the essentials of poster design — text, imagery and layout — as they created posters individually and in groups that brought awareness to local issues. Participants created posters that brought awareness to a multiplicity of issues such as solidarity with Latin America, environmental justice in the Grassy Narrows community in Ontario, welcoming refugees, self-care, and basic income.
Workshops to date:
Toronto, Bento Miso, May 2014
Toronto, Mayworks, May 2015
Brewster, NY, Creative Solutions Symposium, August 2015
Berkeley, School of Information, UC Berkeley, March 2016
Toronto, Centre for Social Innovation, Regent Park, June 2016
The Future of the Vision Archive
We will be adding the poster designs and image iterations to the Vision Archive, linking them to their original graphics to show the evolution and uses of the imagery. Now that there is a solid base of images to work with, we will begin reaching out through social media to encourage new users to sign up and begin collaborating. We will continue to facilitate Vision Archive workshops in Canada and the US. Participants in the Regent Park workshop had asked for a "Part 2" where they could learn Photoshop and print production basics to finalize their posters — we will be seeking funding to make this happen.
The Vision Archive site is still under development so not all functionality is available yet. If you're interested in following the progress of this project, send a message to thevisionarchive@gmail.com and you'll be added to the mailing list.